The Fender 6G15 earned the distinction as the best reverb unit in the market during the 1960s. Since then, more noteworthy brands have followed suit. Among them are the Hoffman Three Knob Reverb, Kendrick's Model 100 and the Matchless RV-1.
Springtime In

 

Reverb

 

Land
Since the early '60s, Fender's 6G15 stand-alone reverbs have been the standard by which all other guitar-oriented, tube-powered spring reverbs are judged. Fender has recently added this noble steed to their ever-expanding reissue stable. We'll take a close look at their new 'verb, along with three other recently introduced contenders: the Hoffman Three Knob Reverb, Kendrick's Model 100, and the Matchless RV-1. We tested these units using a '79 Hiwatt Custom 100, a '66 Marshall JTM 45, a Sovtek Mig 50, a '65 Fender Super Reverb, and a '59 Fender Bassman reissue. We also had four original Fender 6G15s on hand for reference, and our guitars included several Fender Strats and a Les Paul.
The Fender '63 Reverb is truly a close reproduction of the original 6G15. Its cosmetics are identical right down to the stitched-leather handle, cool-looking cast-zinc logo, "radio" knobs, and reverb tank lock. Fender offers the '63 in brown, black, or blonde Tolex (with oxblood grillcloth), or tweed.
The '63's circuit faithfully follows the original schematic with only a few minor changes, mostly in the power supply. The interior construction, layout, and wiring are clean and well executed, and the only concession to mass production is the use of a printed circuit board instead of point-to-point wiring. No fault of Fender's, but the original 6K6 reverb-driver tube has been out of production for years, so the higher-wattage 6V6 has been substituted. A reverbfootswitch is included.
Does the '63 reissue sound like an oldie? The short answer is that while the two reissues we had sounded practically identical, they both sounded different from the four original 6G15s we used for comparison (none of which sounded exactly alike either). Reverbs are strange beasts, and even slight variations in tubes, caps, resistors, transformers,reverb tanks, and layout can greatly affect their delicate balance of electro and mechanical properties. The appeal of the 6G15 is its rich mellowing and softening of the sound, plus its extreme reverb range – from bluesy warmth to crashing surf. Fender reverbs also respond well to pick dynamics, allowing you to control the reverb character with your playing. This dynamic quality and "unquantized" feel is as unique to these primitive reverbs as MIDI, morphing, and mega parameters are to digital 'verb.
The '63 reissue produced more reverb density and intensity with the dwell and mix controls turned full up than any of our originals, but its highs were a bit harsher and the raids and bottom not as rich or deep. Also, our original 6G15s'reverb instantly enveloped the notes, whereas the reissues produced a noticeable delay, like a short slap, before thereverb. Substituting a vintage RCA 6K6 for the reissue's Russian 6V6 added warmth at the cost of some reverbintensity. Replacing the Chinese 12AT7 and 12AX7 with vintage Tung Sol and Telefunken tubes further reduced treble harshness and mellowed the mids. Still missing, however, was some of the oldies' depth. Our hunt for the magic component – the reissue's mojo bone – eventually led us to the last coupling cap in the reverb-recovery circuit (C10 on the circuit board). This cap connects the tone and mixer pots, and by increasing its value from 250pf to 390pf, the reissue's fullness, depth, and intensity suddenly sounded much more like an original. We weren't able to pinpoint the cause of the '63's delayed-reverb phenomena, however. Even swapping the reverb tank from our best-sounding oldie into the reissue didn't solve this mystery.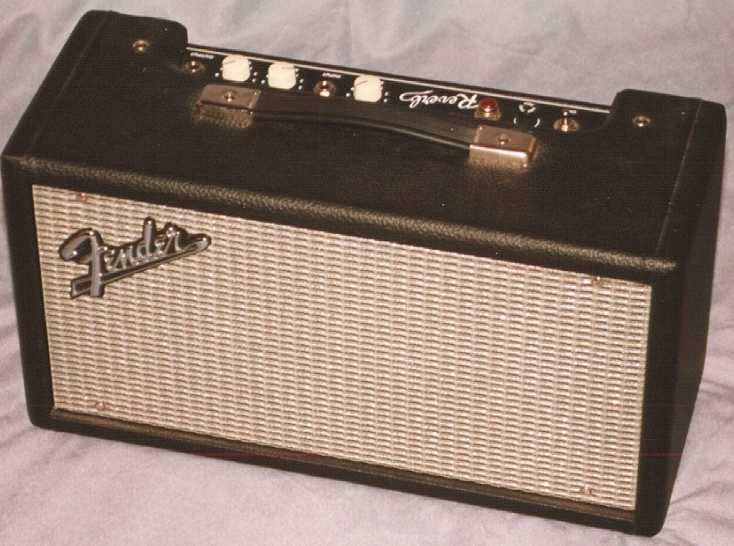 Fender's '63 Reverb is a very cool unit that packs plenty of sonic goodness right off the shelf. It doesn't sound quite like a seasoned original, but then again, how can it? The owner's manual even alludes to this by saying, "If you compare a new '63 Fender Reverb with an original model. the two units may sound slightly different." Reverbquality, like everything else, is subjective, and many players will dig the '63 box stock. But if you've been hoping the new Fender would deliver vintage-reverb salvation, your prayers are almost answered. Consider this: For around half the cost of an original 6G15, you can own a great-looking, solidly built piece of Fender history that can be easily and inexpensively tweaked to sound a lot like a well-aged oldie. (Fender's Mike Lewis adds, "When we originally decided to make reissues, we had to choose between tweaking them to sound like they're 30 years old or building them as per original specs. We chose the latter route because as components age, their values change, and that can greatly affect sound quality. If we produced something that sounded like an oldie today, who knows what it would sound like in 30 years?")
Doug Hoffman is one of a growing number of amp builders who specialize in handbuilt, no-compromise products. The Hoffman Three Knob Reverb is a hybrid design – part Fender 6G15, part mid-'60s Fender combo. It has the 6G15's control layout, but uses a 12AT7 reverb driver and a combo-style driver transformer. Typical of Hoffman products we've seen, the Three Knob offers meticulous craftsmanship and quality components like a thick glass-epoxy circuit board, point-to-point wiring on silver-plated turrets, flameproof metal-film resisters, and ceramic tube sockets. A DC filament supply is also used to reduce hum. Amazing stuff at this price. Curiously, though, the Hoffman had a rather thin aluminum chassis that rattled and buzzed annoyingly in high-volume situations. The rackmountable unit sports a unique smoked Plexiglas front panel, and is available with an optional cabinet covered in either brown, black Tolex, or tweed. Footswitching is optional. (Doug Hoffman says, "The cover will not rattle if it is properly sealed with vinyl or rubberized tape. When the unit arrived, the tape was installed and instruction for removing and replacing it were provided.")
The Hoffman makes no attempt to be a 6G15 done. It's a more polite, civilized 'verb that trades reverb intensity for a deeper, more controlled and refined reverb quality. Though capable of surf-style drips, it doesn't deliver the Fender's sopping drench. The Hoffman's dwell knob also acts like a tone control, with higher settings producing more brightness. Even at its brightest. however, the Hoffman couldn't duplicate the Fender's tile-wall splatter, and its beefier low end seemed to obscure some midrange color and detail. To our ears, the Hoffman is best suited for blues, country. jazz, or other players that don't need the extreme hodad-wipeout of a Fender reverb.
In 1990, Kendrick introduced the Model 1000, an almost exact reproduction of the Fender 6G15. Evolving from this product is the Kendrick Model 100 Rever, an add-on reverb module designed to be permanently hardwired into any tube amp. The footswitchable device features dwell, tone, and mix controls plus a full-size, two-spring tank; a tweed-covered footswitch is provided. In a '59 tweed Fender Bassman or vintage Marshall (their circuits are very similar) the module is inserted between the output of the cathode follower and the input of the phase inverter. This puts the re-verb in parallel with the tone controls – a unique configuration, since stand-alone reverbs are inserted between guitar and amp, and Fender combo reverbs are in-series and post-EQ.
The Model 100 is functionally similar to a Fender 6G15, but it has a different circuit design that uses a pair of 12AX7s. (Kendrick's Gerald Weber explains, "Our driver circuit uses an un-bypassed cathode resistor with capacitor feedback from the plate for better headroom. The output cathode is also un-bypassed for negative feedback, and our tone circuit is completely unique.") The Kendrick's stainless-steel chassis attaches to the inside of your amp's cabinet with two wood screws. The wiring is point-to-point on vintage-style eyelet board, and the components include carbon-composition resistors, quality film caps, and cloth-covered wire. The reverb tank wires are vintage-style with exposed-braid shielding, and the tank resides in a blonde Tolex bag. Installing the Kendrick in my '59 Fender Bassman reissue was a two-hour job, so plan on spending an additional $50 to $100 at your local amp shop for this service. There's another option, however: Kendrick will install the wiring harness free if you pay the cost of shipping your chassis to and from their factory. Please note: This is not a simple installation. Unless you're savvy with electronics, you will need the services of a competent amp technician (or Kendrick) to get this thing up and running.
The Model 100 lacks the reverb density to satisfy a true surf-'verb connoisseur, but it makes up for it with a subtle hi-fi vibe that's extremely well suited for blues or roots duties. Sonically, this unit lies somewhere in between stand-alone and combo reverbs. We noticed some signal loss when the unit was inserted, but we couldn't fault its balanced tones, superb midrange detail, and clear, sweet treble. The 100 is definitely the way to go if you must have a built-inreverb on your non-reverb tube combo.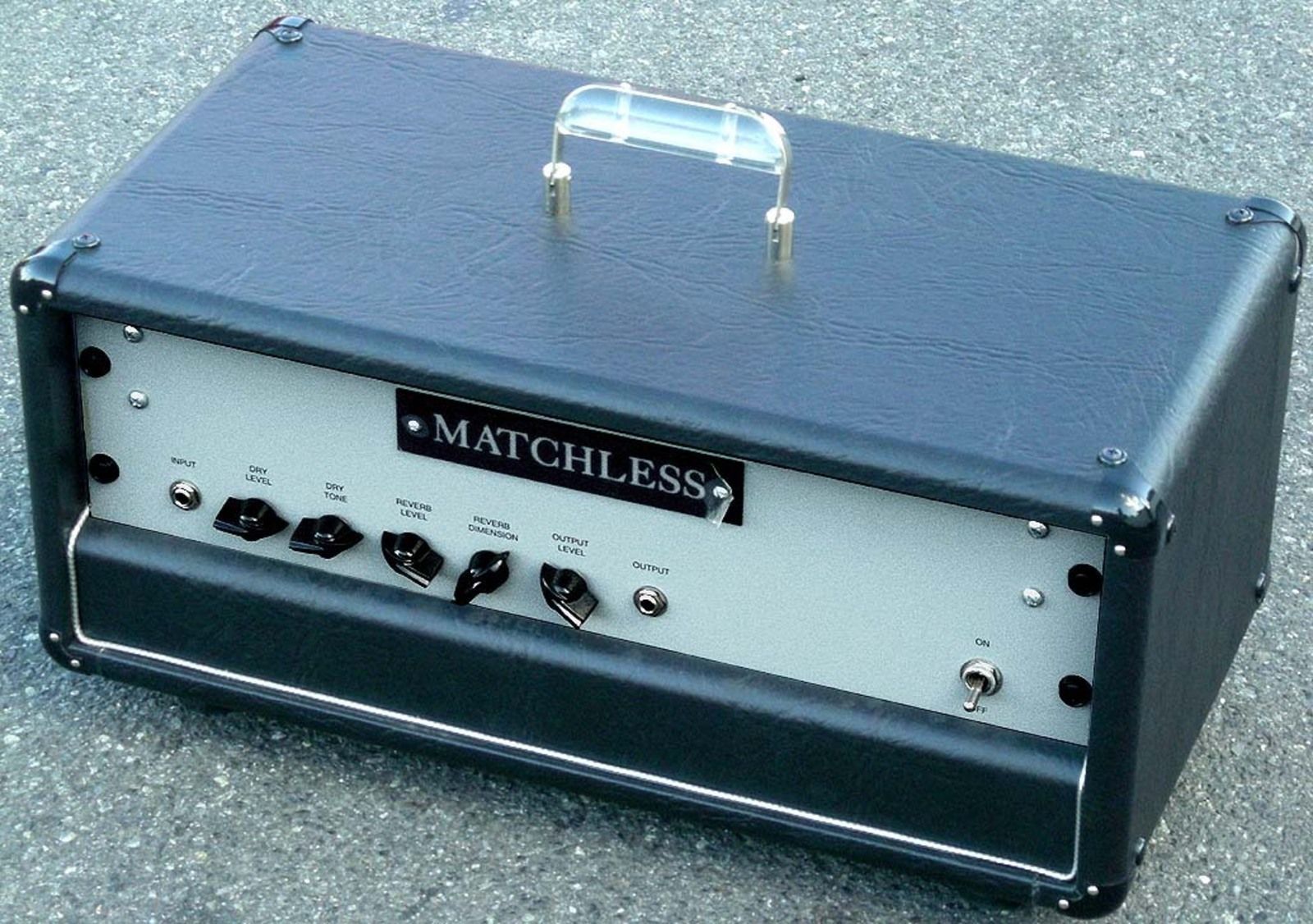 The Matchless RV-1. Matchless is famous for painstaking attention to detail and awe-inspiring designs. This meticulously hand-crafted unit features point-to-point wiring on terminal strips, carbon-composition resistors, Matchless' own proprietary design caps, and handwound transformers. It offers a three-spring reverb tank and is available with or without the cabinet for those who prefer rack mounting.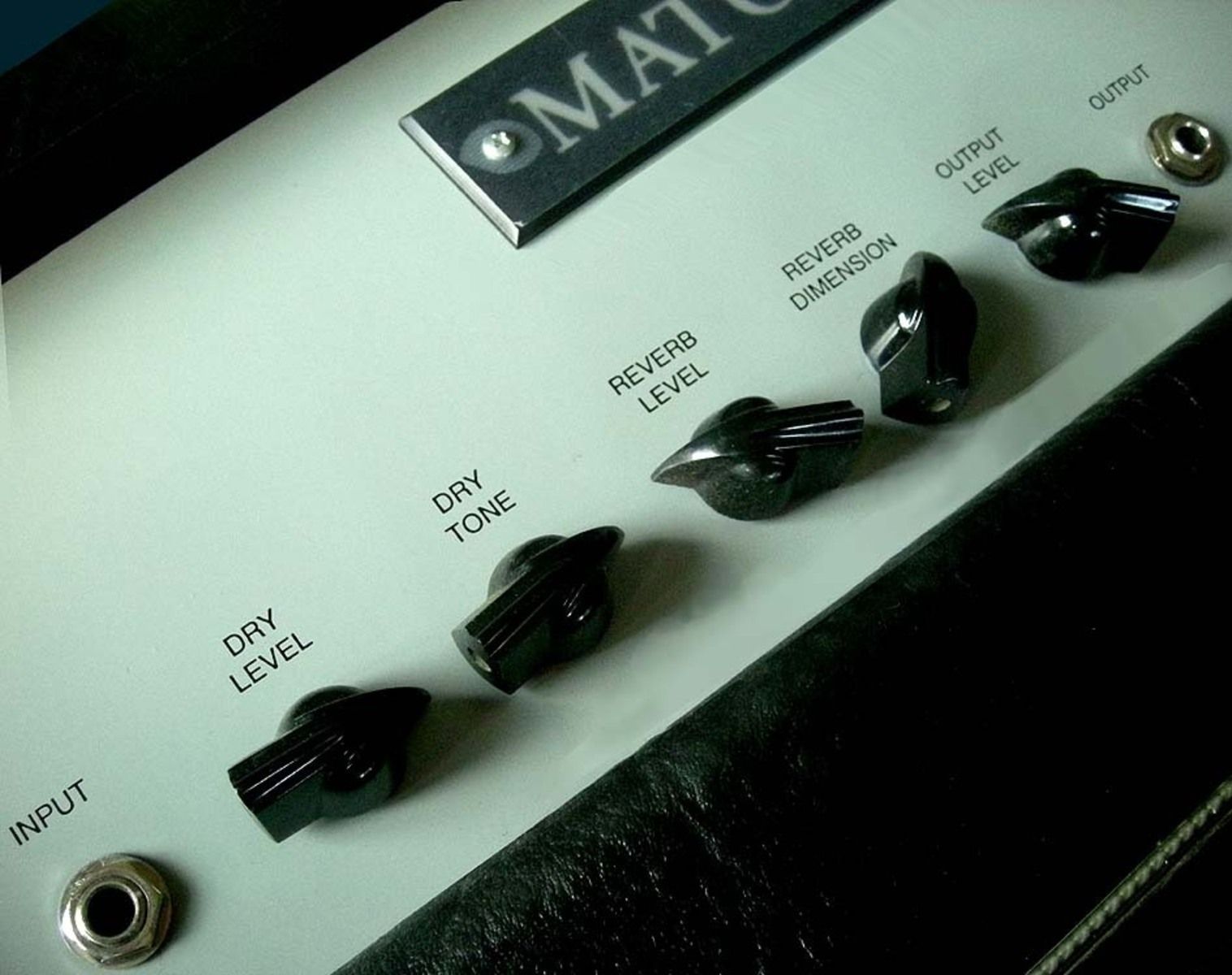 The RV-1 uses an unusual 6267/EF86 miniature nine-pin pentode tube for the reverb tank driver, as well as a 6AL5 rectifier tube and two 12AX7s. The unique circuit provides control of dry level, dry tone, reverb level, reverbdimension (wet tone), and output level. It also has a line-level input on the rear panel and a reverb on/off footswitch jack. One of the RV-1's most powerful features, however, is its output-level control. While most robe reverb units are content to provide a gain of 1 (unity gain), the RV-1 can deliver a significant boost if desired. By tweaking the dry-tone control and boosting the output level, it's possible to get some amazingly meaty and wicked overdrive sounds. Just for fun, we did a little test using a particularly intense-sounding '71 Marshall Super Lead. By itself, this amp sounds as good as an old Marshall gets, but when preamped by the RV-1, it suddenly sounded so fat and cool that we had a little trouble believing the difference once we removed the RV-1. Wow!
The RV-1's deep, cavernous reverb tone sounds meaner and more muscular than a classic Fender 6G15. The Matchless is not a surf reverb - it won't drip as intensely as the Fender unit – but its richness, color, refined smoothness, and in-your-face rock attitude eclipse anything in its class. Major kudos and burnt offerings to Matchless' Mark Sampson – his stellar workmanship and relentless pursuit of tone pays off once again.